Biography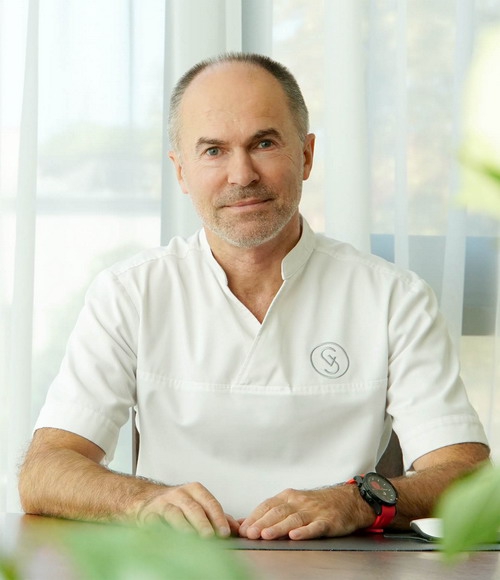 Dr. Saulius Vikšraitis, surgeon of plastics and reconstruction. 1984 – graduated from Kaunas Medical Institute and started working in plastic and reconstructive microsurgery in Kaunas Medical University Hospital. Saulius Vikšraitis is a pioneer of plastic and reconstructive microsurgery in Kaunas who has introduced new operational procedures. During the 20 years of work at the Kaunas Medical University Hospital he performed over 8 thousand plastic and corrective surgeries.
1992 – founded Kaunas Plastic Surgery Centre. After the ears of much success, challenges and experience, he opened a new specialised clinic in Žaliakalnis, Č. Sasnauskas Street, in 2006.
Scientific activities: He is an author of more than 30 scientific papers and presentations. He is a co-author of the Monograph Advanced Methods Microsurgery. The doctor suggested a new method of face lifting in 1998. Since 2004, doctor Saulius Vikšraitis is an international medical expert.
The surgeon is a member of the Lithuanian Society of Plastic and Reconstructive Surgery, a full member of the International Confederation for Plastic Reconstructive Surgery & Aesthetic Surgery European Society of Plastic Reconstructive and Aesthetic Surgery http://www.espras.org, a member of International Society of Aesthetic Plastic Surgery (ISAPS) https://www.isaps.org/listing/dr-saulius-viksraitis/.

Leisure: during his free time, Dr. Saulius Vikšraitis conveys the beauty by painting. He has organized five exhibitions of paintings. The surgeon is a member of the Rotary Club. He is a laureate of TV shows Bėdų Turgus, Žaliasis Obuolys.